find more salvation plans for Central America at: CentralAmerica4Jesus











4Jesus Visit our new site: &nbsp>> BRAZIL FOR CHRIST << 4Jesus

Se você morrer hoje, você vai para o céu?

Jesus died for each one of us. We have all have sinned and come short of the glory of God. There are no exceptions. People lie, steal, kill, fornicate, ignore God, use his name in vain and do much evil. When we do evil, it is called sin and sin must be punished. When a criminal commits a crime, we fully expect him to be punished. Well, each of us is a law breaker. We have repeatedly broken God's holy, righteous laws and we deserve to go to hell. God's word tells us to do what is right. It tells us to love God and to love our neighbor as ourselves. It also tells us not to lie, steal, kill, fornicate, dishonour our parents and covet other people's things. But look around at society. Men do the opposite of what God says. The television teaches the opposite of what God says. We have all done evil with no exceptions. Whoever you are that is reading this article, you have sinned too. Jesus died to save your soul. You are not just a statistic, just one of billions of people. You are unique and made by God. He is not willing that you should perish. He sent his Son to save your soul.

---
1 Corinthians 15:1
&nbsp Moreover, brethren, I declare unto you the gospel which I preached unto you, which also ye have received, and wherein ye stand; &nbsp &nbsp 2. &nbsp By which also ye are saved, if ye keep in memory what I preached unto you, unless ye have believed in vain. &nbsp &nbsp 3. &nbsp For I delivered unto you first of all that which I also received, how that Christ died for our sins according to the scriptures; &nbsp &nbsp 4. &nbsp And that he was buried, and that he rose again the third day according to the scriptures:
Why is that last part; &quotthat he rose again&quot, so important??
Click >> &nbsp HERE &nbsp <<.



In those times when we wish life came with a guide book,
Proverbs is the place to go.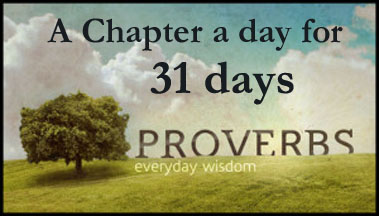 To read a chapter a day, click ->> HERE <<- for a devotional study guide.

"For I am not ashamed of the gospel of Christ: for it is the power of God unto salvation to every one that believeth; to the Jew first, and also to the Greek." -Romans 1:16
The way you witness to ANYONE, is with the GOSPEL (defined in 1st Corinthians 15:1-4 as Christ's death, burial and bodily resurrection). We are ALL sinners deserving of hell-fire. Jesus Christ (the Son of God) paid for our sins with His blood; Jesus DIED; Jesus was BURIED and Jesus ROSE from the dead for our justification.
All we need to do for salvation is to trust upon Jesus Christ by faith to forgive our sins (Romans 3:10,23;5:8;6:23;10:9-13). Acts 10:43 states, "To him give all the prophets witness, that through his name whosoever believeth in him shall receive remission of sins."
The way to witness to ANYONE is to simply present the plain truth of the Gospel of Jesus Christ to them. If a person doesn't want to be saved after having the simple Gospel, then they don't want to be saved. There's no wisdom of words to convince the skeptic of the truth—the Gospel is what it is. If a man will not obey the simple Gospel, then he will not listen to the wisdom of words... "lest the cross of Christ should be made of none effect" (1st Corinthians 1:17).
Witnessing is not arguing religion with people. But some religious people have come to Christ right away when they heard the plain Gospel. A person who wants to be saved WILL trust Christ immediately, you do not need to argue anything with them. A person who wants to DEBATE religion has already rejected Christ in their heart and is now defending their unbelief.
Even if you prove them dead wrong with the Scriptures, they will still hold onto their unbelief (Mark 7:6-9; Luke 16:31). There are people all over the world who want to argue religion. We do NOT need to debate with them; but rather, just keep giving them the simple Gospel of Jesus Christ. The POWER of God which brings salvation is the GOSPEL itself, and not our cleverly worded arguments.
There are billions of people in this world who have never heard the Gospel, many of whom would happily trust Christ; but we are too busy arguing religion.
If they won't accept God's free gift of eternal life from just hearing the Gospel, then there is NOTHING we can say to make any difference... "And he said, Nay, father Abraham: but if one went unto them from the dead, they will repent. And he said unto him, If they hear not Moses and the prophets, neither will they be persuaded, though one rose from the dead" (Luke 16:30,31).
All we can do to get people saved is to express God's unconditional love for them by sharing the Gospel truth with them, pray for them, never give-up on them; but also, NOT get into heated futile debates that go in circles and waste precious time. Go fish somewhere else. A fisherman is looking for hungry fish, not stuborn fish. Cast the Gospel lure somewhere else.
For Christ sent me not to baptize, but to preach the gospel: not with wisdom of words, lest the cross of Christ should be made of none effect." —1st Corinthians 1:17
---
Plan of Salvation from Gospel of Luke
Having a right relationship with God begins with acknowledging your sin. Next comes a humble confession of your sin to God (Isaiah 57:15). This must be accompanied by faith, specifically, faith that Jesus' sacrificial death and miraculous resurrection qualify Him to be your Savior. "…if you confess with your mouth, 'Jesus is Lord,' and believe in your heart that God raised him from the dead, you will be saved" (Romans 10:9). Other passages speak of the necessity of faith, such as John 20:27; Acts 16:31; Galatians 2:16; 3:11, 26; and Ephesians 2:8.

When Jesus is called the Lamb of God in John 1:29 and John 1:36, it is referring to Him as the perfect and ultimate sacrifice for sin. In order to understand who Christ was and what He did, we must begin with the Old Testament, which contains prophecies concerning the coming of Christ as a "guilt offering" (Isaiah 53:10). In fact, the whole sacrificial system established by God in the Old Testament set the stage for the coming of Jesus Christ, who is the perfect sacrifice God would provide as atonement for the sins of His people (Romans 8:3; Hebrews 10).
More on the Lamb >> &nbspHERE &nbsp<<


Of how much sorer punishment, suppose ye, shall he be thought worthy, who hath trodden under foot the Son of God, and hath counted the blood of the covenant, wherewith he was sanctified, an unholy thing, and hath done despite unto the Spirit of grace? &nbsp Heb 10:29




When this life ends,
who will be there to welcome you to eternity??



| | | |
| --- | --- | --- |
| | &nbsp | |
| A Saviour who loves you. | OR | Somebody unexpected!! |

Hearing the Gospel doesn't save you
So many have gone to church,
yet have never put their faith in Jesus
They trust in themselves, or good works, or religion
Do not procrastinate any longer! Today is the day of salvation!
"For he saith, I have heard thee in a time accepted, and in the day of salvation have I succoured thee: behold, now is the accepted time; behold, now is the day of salvation.
2 Corinthians 6:2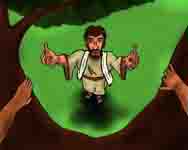 How to avoid Hell

the door to eternity
where does it lead?
click door for more information ===>>
the choice for the
destination must
be made by faith
in this life




---
Do not let this be YOU!
Or someone that you know!!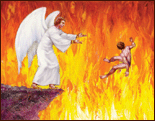 "And whosoever was not found written in the book of life
was cast into the lake of fire.&quot
—Revelation 20:15

Yes, the same 'whosoever', who could have simply asked to be saved
and got their name written in the book, put it off untill...
oops, now it is too late.

Click to find out why!
---
Its Simple to Get Saved!
View this Simple Plan with a Translator!
Click >> &nbsp HERE &nbsp<<
It's so simple to get saved, people are deceived in thinking it can't be that simple. BUT IT IS! The apostle Paul warns, in 2 Corinthians 11:3 of Satan deceiving you by the simplicity in Jesus Christ.
"But I fear, lest by any means, as the serpent beguiled Eve through his subtlety, so your minds should be corrupted from the SIMPLICITY THAT IS IN CHRIST." 2 Corinthians 11:3
You know what? You can be saved right now. You can be saved right where you are! This very minute
How to be Saved?
- Realize you are a sinner.
"As it is written, There is none righteous, no, not one:" Romans 3:10

"... for there is no difference. For all have sinned, and come short of the glory of God;" Romans 3:23
- Realize you will face JUDGEMENT because of your sins.
"And as it is appointed unto men once to die, but after this THE JUDGEMENT:" Hebrews 9:27

"So then every one of us shall give account of himself to God." Romans 14:12

12 And I saw the dead, small and great, stand before God; and the books were opened: and another book was opened, which is the book of life: and the dead were judged out of those things which were written in the books, according to their works.
13 And the sea gave up the dead which were in it; and death and hell delivered up the dead which were in them: and they were judged every man according to their works.
14 And death and hell were cast into the lake of fire. This is the second death.
15 And whosoever was not found written in the book of life was cast into the lake of fire. Revelation 20:12-15
- Realize you CAN NOT save yourself.
"But we are all as an unclean thing, and all our righteousnesses are as filthy rags; ..." Isaiah 64:6

"Not by works of righteousness which we have done, but according to his mercy he saved us, ..." Titus 3:5
- Realize that on the cross Jesus Christ took upon Himself your sins .
"Who his own self bare our sins in his own body on the tree, ..." 1 Peter 2:24
"... Unto him that loved us, and washed us from our sins in his own blood," Revelation 1:5
- Simply receive Jesus Christ by faith as your personal Savior

"But as many as received him, to them gave he power to become the sons of God, even to them that believe on his name:" John 1:12

"...Sirs, what must I do to be saved? And they said, Believe on the Lord Jesus Christ, and thou shalt be saved, and thy house." Acts 16:30,31

"For God so loved the world, that he gave his only begotten Son, that whosoever believes in him should not perish, but have everlasting life." John 3:16
Salvation is trusting and receiving Jesus Christ as your Savior. It's trusting in the fact that Jesus Christ died on the cross of Calvary to pay for your sins! It's realizing there is absolutely nothing whatsoever you can do to save yourself and completely trusting in Jesus Christ to save you! It's not any church that saves. It's not any baptism, not good works, not sacraments, not repenting, not praying through, not living a good life — IT'S NOT ANYTHING YOU CAN DO!
8 For by grace are ye saved through faith; and that NOT OF YOURSELVES: it is the gift of God:
9 NOT OF WORKS, lest any man should boast.Ephesians 2:8-9
Now isn't that plain? NOT OF YOURSELVES. . . NOT OF WORKS. . .
HOW TO BE SAVED?
Would you like to receive the gift salvation? If so, here is a simple prayer you can pray to God. Saying this prayer is a way to declare to God that you are relying on Jesus Christ for your salvation. The words themselves will not save you. Only faith in Jesus Christ can provide salvation!
"God, I know that I have sinned against you and am deserving of punishment. But Jesus Christ took the punishment that I deserve so that through faith in Him I could be forgiven. With your help, I place my trust in You for salvation. Thank You for Your wonderful grace and forgiveness - the gift of eternal life! Amen!"
If you just prayed that prayer — according to the Word of God — YOU ARE SAVED! HALLELUJAH!
You say, but I don't feel any different. Guess what? Your salvation does not depend on your feeling. It ALL depends on doing what God SAID!


More on feelings: >> &nbsp HERE &nbsp<<

God said if you receive and trust in Jesus Christ you are saved. Notice it does NOT say you "might" or "could" be saved — but "shall be saved". YOU ARE SAVED!
For whosoever shall call upon the name of the Lord SHALL BE SAVED. Romans 10:13
Didn't you just believe on the Lord Jesus Christ? Look at what John 3:36 says! It says you HATH EVERLASTING LIFE! Not "maybe" or "hope so" — BUT HATH — YOU ARE SAVED!
He that believeth on the Son HATH EVERLASTING LIFE: and he that believeth not the Son shall not see life; but the wrath of God abideth on him. John 3:36
Friend, if you prayed the prayer and received Jesus Christ — YOU ARE SAVED! You did what God said — AND GOD CANNOT LIE!
In hope of eternal life, which God, THAT CANNOT LIE, promised before the world began; Titus 1:2
What to do next?
Tell somebody about Jesus. Go tell someone when you get through reading this that you just got saved. Tell your family. Tell your friends. Tell the world! Try to find someone everyday you can tell about Jesus.

And daily in the temple, and in every house, they ceased not to teach and preach Jesus Christ. Acts 5:42
---
What does it mean to witness?
In Matthew 4:19, Jesus gave some fisherman a rather strange proposition. "Follow me," He said, "and I will make you fishers of men." What could He possibly mean? How can one "catch" men? A simple reading of the book of Acts will give us the answer. Jesus wanted these men to become soulwinners!
It is the call and duty of every born again believer to share the Gospel of Jesus Christ with the lost.
We read in the book of Romans, chapter 10, "For whosoever shall call upon the name of the Lord shall be saved. How then shall they call on him in whom they have not believed? and how shall they believe in him of whom they have not heard? and how shall they hear without a preacher? ... So then faith cometh by hearing, and hearing by the word of God."
Witnessing is not only for missionaries and pastors. Are you saved? Then witnessing is YOUR responsibility too.


---

---
&nbsp
---
AMAZING GRACE BIBLE INSTITUTE